---
A Map of the Night
University of Illinois Press, 2008, 143 pages, $19.95
Poems by David Wagoner
Any writer whose work you have followed for some fifty years has become a kind of friend. If not friend, perhaps surrogate friend then.
David Wagoner is one such writer. I have tracked him from familiar common-place territory into areas previously uncharted, rarely visited, by poets, At his best, the trip is exciting; at the least, it is still enlightening. And I've read most of his novels, too. Ten of them.
Eighteen poetry collections? It is an impressive number. The quality of the work--the poet is now well into his eighties--is not falling away with age. It is what it has always been--quiet, serious, often funny, challenging, informative. Wagoner has a way of seeing daily events in a way that is fresh. But isn't that what poets do, and why we buy the periodicals that feature them, and their books, when they come out?
Two poems from this collection, A Map of the Night, seem to me outstanding and echo poems from his early books, when he was new to the Pacific Northwest and seeing the country and countryside with eyes still Mid-Western.
The title poem from Riverbed (1972) is a good example and is echoed in Owning a Creek (below); the view was mellow then and is no less mellow now.
Owning a Creek
A barn with a concrete floor,
gutters and drains
for washing away cow pies and spilled milk.
Three stalls, their edges bitten
and splintered by generations
of barn-sour horses. A matter-of-fact garden
with a hoe still stuck in a furrow. A four-square
shotgun house with a roof and welcome mat
and shutters on all four sides. An old orchard
with eleven unpruned prune trees. All ten acres
available. You should buy it, the man said.
Fix up the fences, paint everything white,
call it a nice name on a sign out front , and sell it to city folks as thoroughbred stables.
A sure thing. I walked out back, alone, with the advice but not the consent of the crows,
and waded through knee-high crack grass (inedible by anything but fire) to the south boundary,
the bank of a creek. Whoever bought the farm
would own on paper a good seventy yards
of one side of this creek glittering now
and always out of a forest, out of the foothills,
down from a mountain lake. For the first time
I was tempted, but had just enough sense
to kneel and put my hand against the stones
of its bed and leave it there in the cold current,
in the rush swirling around it, past it, and gone,
and all of me felt good to be going with it.
It might be argued that this is prose, not poetry, and I admit the language seems often to cross that imperceptible line between the two, but it seems to me it is remarkable language (what ever it is) and worthy of serious consideration. It is the voice of a poet who has thought long and hard about the matters under consideration and has something meaningful to say. And that is all we dare ask of anyone, writer of fiction or poetry.
Here's another poem from this recent collection:
The Heart of the Forest
You pretend to look for wildflowers, but what you're doing
is trying to find traces of where your feet
lost their sense of direction in the woods.
You can name the trees and what's staying alive
under them, but you're afraid this may be a time
when you find the ghost-pale, skinned corpses of beavers
or the green antlers still on the skulls of elk,
or the leaflike, feather-light wings of owls suspended
upside down on spikes among living branches,
so you rehearse remembering the place
where one of your clumsy feet once found itself
secure, where it lifted you and moved you,
where you breathed again and saw, in the near-darkness
of the forest floor, a fir tree fallen and broken
into nurse logs, out of whose rotten, moss-covered sides,
among small spillways of lilies of the valley,
dozens of other selves were growing, rooted
all the way through into another forest
where nothing comes to an end where nothing is lost,
and lying down with one ear to the ground,
you listened to its heart and your still beating.
Nice, eh? I think so. Wagoner has a pleasing way of seeing both new and familiar places, often wild ones, with keen vision and including you, the reader, in what he finds lying out there--the world's quiet manifestation of natural beauty and significance.
His poem, Meeting a Bear, from the 1976 book New Poems, and the preceding poem in the book, Breaking Camp, are good examples of how he beholds the natural world on one of his regular enlightening visits.
He is not only teaching us to see in the ways that he sees, but how to experience what we individually encounter in our own visits. It is important to be vigilant to what is going on there, usually unobserved, or else such small happenings and events will flow right on by us, unknown, unfelt, inexperienced. and not enjoyed.
And what a loss that would be.
FOUR TO DRAW TO, BY QUENTIN TARANTINO
Could it be that Tarantino is the next . . . Orson Welles?
Pulp Fiction 1994
A burger-loving hit man (John Travolta), his partner in wanton cruelty (Samuel L. Jackson), a drug-addled gangster's moll (Uma Thurman) and a washed-up boxer (Bruce Willis) converge in this sprawling, comedic crime caper fueled by director and co-writer Quentin Tarantino's whip-smart dialogue. Their adventures unfurl in three stories that ingeniously trip back and forth in time, resulting in one of the most audacious and imitated films of the 1990s.
Jackie Brown 1997
Jackie Brown (Pam Grier) is an aging flight attendant who smuggles cash on the side. But when she's busted and pressured to help with an investigation, she plans to play the opposing forces against each other and walk away with the dough. Director Quentin Tarantino's deft storytelling combines with an all-star cast -- including Samuel L. Jackson, Robert De Niro and Michael Keaton -- in this atmospheric crime caper.
There is much ambiguity in the story, the behavior of the major characters, and the use of language, including the N word. But the characters inhabit a world of realistic complexity and behave in understandable character through out quickly paced drama. One test of such a movie is, could you stand to see it again, say, two years later? I'd say, Yes.

Kill Bill One 2003
In the first volume of this gritty revenge saga written and directed by Quentin Tarantino, an assassin (Uma Thurman) is shot at the altar by her ruthless employer, Bill (David Carradine), and other members of their assassination circle. But "The Bride" lives to plot her vengeance. Setting out for some payback, she makes a death list and hunts down those who wronged her (including a one-eyed Daryl Hannah), saving Bill for last.
* * *
A truly great movie and one that grows in its appeal and enjoyment from year to year. Uma Thurman and David Carradine appear in Bill One and Bill Two, and are expected to resume their old roles in Bill Three. Rumor is, it is already in pre-production. However, since Carradine died in 2009, he will only reappear if Tarantino decides to use some old film clips to salute him and to carry on the tradition.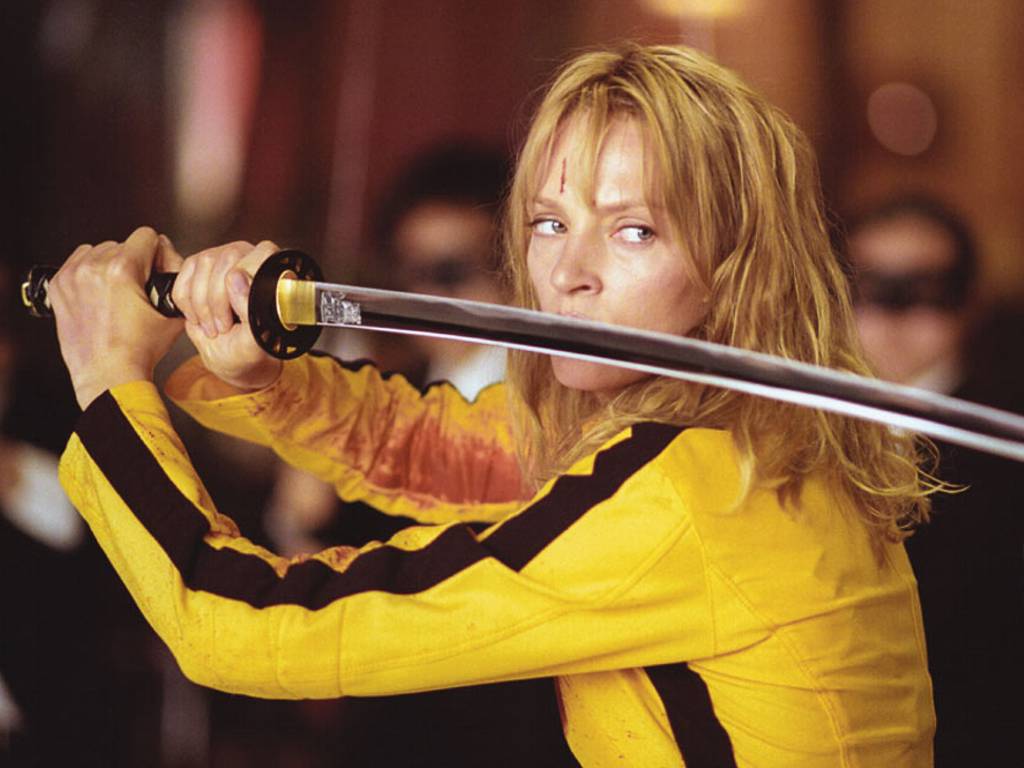 Kill Bill Two 2004
In the second installment of Quentin Tarantino's outrageously inventive Kill Bill series, the Bride (Uma Thurman) unwaveringly continues on her "roaring rampage of revenge" against the band of assassins who had tried to kill her and her unborn child. The woman visits each of her former associates one by one, checking off the victims on her Death List Five until there's nothing left to do … but kill Bill (David Carradine).
Kill Bill Three
. . . 2014 ? ??
Kill Bill Two is a continuation of One, of course, and together they form an organic whole.
Tarantino has been talking seriously about a third such movie. But since Carradine died in 2009, and it unlikely there are enough outtakes to feature him in a new movie. Still, it would be possible to shoot a movie around his character without actually showing him. Even his voice from the past could be heard.
If anybody could make such a clever new film, T would be the one.
Besides, he more or less owns the property. He and Uma, that is.
---
The following information is stolen from Wikipedia; note: hyperlinks below will take you to various Wikipedia websites. All are informative.
And I am grateful to Netflix for the summaries of Bill One and Two, which I have edited slightly, mostly for space reasons. Ed
Quentin Jerome Tarantino (pronounced /ˌtærənˈtiːnoʊ/; born March 27, 1963) is an American film director, screen writer, producer, cinematographer and actor. In the early 1990s he was an independent filmmaker whose films used nonlinear storylines and aesthetication of violence. His films include Reservoir Dogs (1992), Pulp Fiction (1994), Jackie Brown (1997), Kill Bill (2003–2004), Death Proof (2007) and Inglourious Basterds (2009). His films have earned him Oscars, Golden Globe, BAFTA and Palme d'Or Awards and he has been nominated for Emmy and Grammy Awards. In 2007, Total Film named him the 12th-greatest director of all
Tarantino's father is Italian American and his mother is of Irish and Cherokee Native American ancestry. He was raised by his mother, as his parents separated before his birth.[6] When he was two years old, his mother moved with her son to Torrance, California, and later moved to the Harbor City neighborhood of Los Angeles. He attended Narbonne High School in Harbor City for his freshman year before dropping out of school at age 15.
Quentin and his childhood friend, Adam Olis] began to make movies in his backyard using cheap animations. He attended acting school at the James Best Theatre Company in Toluca Lake. At age 22, he held employment at the Video Archives, a defunct video rental store in Manhattan Beach where he and fellow movie buffs like Roger Avary spent all day discussing and recommending films to customers.
(more on Wikipedia.com/)
---
AT THE MOVIES
How do we evaluate and rank movies?
Good question. We start with Goethe's three-part criteria for literary criticism: What was done, how well was it done, and was it worth doing? In the instance of movies, we add a few criteria of our own: How quickly does the film capture our attention and involve us in an imaginary world that is complex, realistic, and important?
Memorable movies that quickly achieve this vital, initial feat include Blade Runner, Apocalypse Now, Once Upon a Time in America, Cries and Whispers, and Gangs of New York. There are of course many, many others that do this well.
Then we try to evaluate the characterization. How well do the actors portray their characters and how rich, complex, and realistic are they?
Finally, there is the highly subjective evaluation of the movie in comparison with all the other movies we've seen--hundreds by the time we have become reflective adults. But above all is the question, How quickly and strongly does it grab you?
This is the ultimate test in a day of easily forgettable video movies.
---
What are the
greatest movies of all time?
How many are there, after nearly 100 years of film making? Many, but only a few have achieved this wonderful status.
Tell us your favorite movies and maybe we will publish them. Or add some to our list. But to start things off, here are a few that we think must be included, but not necessarily in this order:
1. Citizen Kane
2. Apocalypse Now Redux
3. The Godfather, part 1
4. Once Upon a Time in America
5. The Third Man
6. All That Jazz
7. Casablanca
8. Gandhi
9. Reds
10. Chinatown
11. House of Sand and Fog
12. Ordinary People
13. Gangs of New York
14. Mr. Hulot's Holiday
15. Cries and Whispers
16. The White Countess
17. Blade Runner
---
The Second Tier
1. Invincible (Werner Herzog, 2002)
2. Requiem for a Dream (Darren Aronofski 2000)
3. The Usual Suspects (1995)
4. Heaven's Gate (Michael Cimino 1980)
5. Fanny and Alexander (Ingmar Bergman, 1982)
6. Deliverance (John Boorman, script by James Dickey 1972)
7. Henry and June (Philip Kaufman 1990)
8. Thelma and Louise (1991)
---
MOVIES REVIEWED EARLIER
(Note: these are all hyperlinks; click on them to see the pictures and the review)

Once Upon a Time in America
Flesh and The Devil
Ingmar Bergman Revisited
The Past Recaptured
Dune Again?
Nora
Things You Can Tell
Lord of the Rings
House of Sand and Fog
Sylvia
The Hours
Return of the Lord of The Rings
Girl With a Pearl Earring
Before Sunset
Before Sunrise
Oblomov
The Eternal Sunshine of the Spotless Mind
The Piano Teacher
Million Dollar Baby
Aviator
Elizabeth
Elizabeth I
Bad Timing
A Very Long Engagement
The Da Vinci Code
Poseidon
Tristan and Isolde
Swann in Love
Time Regained
Nathalie
An Inconvenient Truth
A Love Song for Bobby Long
Shadrach
The Departed
Notes on a Scandal
Little Children
The Good Shepherd
Frankenstein
The Hours
---

Smelt and apple blossoms

Cup and spoon (Seattle Magazine cover)

RICHARD GILKEY--a personal
RECOLLECTION
by Robert C. Arnold
Editor/Publisher
Richard Gilkey and I were young together, among a large, amorphous group of people who lived on the edge of the University of Washington campus (commonly called The Ave), back in the 1950s, and knew each other mostly by sight from local taverns and parties that were often continual, when not continuous. I recognized him as a fine arts painter of considerable talent, and though at the start of his career his portraits and landscapes (O those landscapes!) sold for only a few dollars and many of my friends bought them for $75 or less, I did not. (I've made up for that in later years, when they were no longer were such bargains.)
The Blue Moon Tavern was a near nightly fixture in many of our lives and those lives were structured so that we could start to drink (beer, usually) in mid-evening. We did not finish drinking until tavern closing time, which was rigidly one A.M., except for Saturdays, when they closed by law an hour earlier so as not to infringe on the Sabbath.
Gilkey, an ex-Marine, was narrowly known as a street fighter and had a punch that was widely recognized and admired. The word was to stay clear of him when the taverns emptied onto the streets and he and other street fighters sought each other out for common purpose. That purpose was to avenge some real or imagined or contrived insult that had occurred minutes or even hours earlier and had been hoarded for strategic purposes.

The painter, in logger's boots, probably because of the Skagit's muddy fields

One of these moments became locally famous. My wife and I happened to be present because tavern-closing time takes place in the same moments at whatever place you've been drinking in. She and I were motoring slowly East along NE 45th Street; the traffic was heavy. We were almost at a stop. Richard was recognizable--hatless, wiry, pugnacious. His opponent had been knocked down once already; he was rising to his feet, stunned and angry, when Richard hit him for the second time. It was a beaut.
I can still see the fellow's backward arc in a visual reversal of his rise just a moment before. He didn't know what had hit him the second time, only that it was Expert Puncher Gilkey again. Back the man arched, and this time the back of his head hit the sidewalk first. It was then that he lost consciousness for what might have been the second and certainly much longer time. The gathering crowd opened its ranks to gawk in wonder at the result. An ambulance was called. And the cops. Fifty years later I can still see it.
Whether or not you care for such bits of physical phenomena, the result was impossible to ignore or not to be impressed with. Visions of Jack Dempsey or Cassius Clay flit across my interior screen. How wonderful not to be on the receiving end of such a punch.
I thought of the punch five or six years later when I attended a party arranged to raise money for Ward Corley, a fellow painter who was dying from cancer, destitute, in a Seattle hospital. Richard was there, of course, and so was a girl I had dated for years. They were together for the evening. Hilda had a head start on the rest of us, but then she had always been a bit theatrical and flamboyant. She rushed over to me and gave me a big kiss on the mouth. Did I imagine it or did I see Gilkey glowering in my direction? He did not cock his arm, though, I noticed.
Time flows quickly when you are at a party and having a good time. Pretty soon Gilkey and I found ourselves only a couple of yard apart and, as they say, closing fast. I greeted him with a nervous grin and said, "Hilda and I are just friends."
What a stupid thing it was to say.
Gilkey grinned back and said, "So are we." And I was out of harm's way.
We talked a little more and moved on to talk to others.
* * *
Years later I quit my job at an editor at the UW and decided to try to support myself as a free-lance writer of books and for magazines. Ha! But a Seattle weekly newspaper took me on as an arts writer. Weeklies pay four times a month, as opposed to monthly magazines that do so only once.
But it was fun, at least for a while. When Saul Bellow, whom I had met, got the Nobel Prize for Literature, I asked to write an article about him, not realizing that I would have to go back and read all of his books in order to do him justice. Factoring in all that time, I probably earned a penny a word.
As a result of having to learn photography as an editor, I developed an interest in seeing paintings and the work of the Northwest painters, who co inhabited my world of Seattle and the University District. Mark Tobey could be observed almost daily; it was hard not to notice that beret and goatee, and his peculiar walk. Morris Graves was often seen in the neighborhood, too, and his work at the Seattle Art Museum.
This was the era of the dollar print of the European greats, and some of the locals such as Graves permitted small cheaply printed edition of some of their now-famous paintings. I tracked down and bought some of them, including a couple by Gilkey. They became the nucleus of my collection at $5 or $10 each. (Old money!)
So when the opportunity to write gallery reviews of these prominent local artists was part of the freelance job, I grabbed it. I reviewed Kenneth Callahan's 1975 Amory Show of huge, amorphous paintings of the ocean at Long Beach and said I liked them. He was a former arts writer himself, read my review, and wrote and thanked me for what I had said.
I think there was a Gilkey show about then, and I reviewed it, too, I've forgotten the details and don't have the clipping to remember it by. It might have been at the old Bellevue Art Museum and I bought a print of his there for about $10--a lot of money then. And when Graves' first public showing of his new flower paintings took place at Foster White Gallery, I told my editor that I was the best person to handle the review. She smiled and let me write it.
It was not so simple. I was astonished at this bright new work in tempera, not oil, and at a loss for what to say or write about it. All flowers! I didn't know whether I liked them or not, it was so different from the gloomy bird and chalice oils I had been used to seeing for so many years. I remember trying to find a new vocabulary to describe the bouquets, but was at a loss as to how to evaluate them.
Fortunately Gilkey was at the opening, too. I sidled over to him, said something foolish about the storm outside, and then asked him for his opinion of the show. I think he was waiting for an opportunity to gush about them to someone. I drew him out and wrote some of it down and tried hard to remember the rest. What I did was to accept his opinion as my own. I did not question it. That became the basis for my article.
"Flowers?" I asked. "Does this mean he has abandoned that deep, brooding, apocalyptic vision of nature that we all know and love him for? I dunno."
"No," Gilkey said gently. "Same guy, different outlook." Or words to a similar effect. "He's working in tempera now. A difficult medium. You cant' make mistakes and undo them, as you can with oils. Well, not easily.
"They are wonderful, aren't they?." Those were his words, I think. "Simply beautiful," he added. Then he added a kindly but not noticeably condescending, "Look again."
I wasn't convinced. More than 35 years later, a small reservation still exists in the back of my mind whenever I see one of the flower paintings. I like them, I mean, but with a different side of my mind that distrusts my judgment because of the value I place on the dark, early work. But I'm coming round. It takes some of us more time than others. A lifetime.
Maybe beauty alone is enough. The flower paintings are certainly beautiful enough.
Graves continued along his life's path and moved to his extensive spread in Northern California and Gilkey, coming into his own year by year, aided by his full-time agent, Janet Huston, was firmly established in the Seattle area. People began to buy Gilkeys. My friends did, but I did not. No money to spare. My friends continued to buy them and I would see them in their homes and covet them.
When it came time to retire and move from the crowded city, I thought first of river valleys as places to live, for I am a fisherman. I considered the Skagit Valley and Fir Island. It was because of Gilkey's paintings, of course. And now I had a little spare change. Instead of the cheap five or ten dollar prints, I had lived with for so long, I thought of buying one or two of the real thing.
Gilkey lived on Fir Island but his gallery was in La Conner. There I learned from Janet Huston that Gilkey was ill--probably terminally so. She said he had been too sick to paint for several years. How terrible, I thought; how terrible to be so ill that you couldn't venture out to do your plein air work. that had always been his best and what he was best known for. I looked at the prices in Jane's gallery. I took a deep breath and bought one, that first year. I wasn't sorry and told myself that Richard really needed the money. A year later I bought another of his landscapes. I liked the idea that maybe my money was helping him out.
More than ten years have passed. The paintings have held up well. I look at them nearly every day.
---
Kingfisher Journal considers itself part of the print community, in spite of its sole online presence. Sometimes we will provide links to writing we think good and worth reading. Though we are a quarterly, with issues that correspond roughly to the seasons, we intend to update our issues frequently in between editions, adding pictures, features, and new reviews and articles. We hope you'll come back and visit us between issues.
The featured artist's work—usually a painting positioned right below the masthead—will change between issues, giving Kingfisher a fresh look from week to week. And there are semi-permanent links to artists whose life and work we consider important, such as Mark Tobey, Morris Graves, Kenneth Callahan, and Guy Anderson. Alas, no more new work is forthcoming from them.


"Painter of Human Consciousness"
Richard Gilkey (1925-1997):
by Deloris Tarzan Ament
HistoryLink.org Essay 5404 : now in the public domain.

Lower left, a collegiate- looking Gilkey and Jan Thompson. Yes, that workman behind them is Morris Graves
The painter Richard Gilkey grew up in the Skagit Valley, attended Ballard High School, and served in World War II as a marine. He returned to civilian life traumatized, becoming a brawler and rabble rouser. Exposure to the mystical and anti-war paintings of Guy Anderson, Morris Graves, and Mark Tobey turned him to serious painting. At first he executed heroic landscapes, often using a palette knife to apply thick paint to huge canvases. A serious automobile accident in 1984 interrupted his work for three years. When he was able to paint again, his work became more interior, a record of human consciousness. Recognition was immediate, both in the Pacific Northwest and internationally. This biography of Richard Gilkey is reprinted from Deloris Tarzan Ament's Iridescent Light: The Emergence of Northwest Art (Seattle: University of Washington Press, 2002). Note: All quotations, unless otherwise noted, are from Deloris Tarzan Ament's interview with Richard Gilkey.
The Nature of Reality
Late in his career, Richard Gilkey wrote those words, reflecting on the body of work he had produced:
"For 50 years of working at painting and sculpture my primary interests and intentions have remained constant. The nature of reality, our relationship to the enormity of space-time, and the interaction of mankind with itself in our universe comprise my concerns. Life on our planet, formed from the very dust of exploding stars, is nurtured and sustained by the light energy of our Sun. My work intends to image universal aspects of reality and consciousness through light and form" (Janet Huston Notes).
Gilkey, a fourth-generation resident of the Skagit Valley, had deeper roots in the Northwest than any other artist of his generation. His paternal great-grandfather, one of the region's earliest settlers, had helped build dikes in the Edison area. His maternal grandfather was the bridge tender at the north end of the Swinomish Channel.
The Skagit Valley was in his very bones. Perhaps that was part of the reason he so often painted outdoors, searching out remote sites where he wouldn't be disturbed, taking along stakes to anchor his easel from winds, and an ax to hammer them into the ground.
Early Years
Gilkey was born on December 20, 1925, in Bellingham. He spent the first six years of his life in a logging camp in British Columbia, where his father was a timber cruiser (identifying trees to be cut for logging operations), before the family moved back to March Point, near Anacortes.
He was 12 when the family moved to Seattle. At Ballard High School, he studied art with the outstanding, widely loved teacher Orre Nobles. Gilkey showed a modest early talent for sketching.
War Years
His brother, Tom, two years older, dropped out of school in his senior year to enlist in the Marine Corps on December 8, 1941, the day the United States declared war on Japan. Richard, a skinny 17-year-old in his junior year, soon followed suit. He stuffed himself with ice cream and bananas for a week to meet the minimum weight requirement.
As a private first class in the 3rd Marine Raider Battalion, Gilkey took part in the invasion of Bougainville in the Solomon Islands. A high percentage of his battalion were killed. Many others were grievously wounded. Richard was knocked out twice by artillery fire. He spent 10 months in the hospital before receiving a medical discharge in August 1944. His brother, suffering from shock and concussion, was similarly discharged the same year.
In later years, the condition they suffered would be called post-traumatic stress disorder, but in World War II, the term was not yet in use. Friends said the look of age and grief that haunted Gilkey's sea-blue eyes dated from his time in the marines.
Readjustment to civilian life was hard for both Richard and Tom. They told a reporter that when they found "people just concerned with themselves, you wonder if they realize that while they're short of butter and gasoline, other fellows are going without food and clothing and arms and legs" (Stewart).
Richard went back to Ballard High School briefly, but he lasted there only two weeks. He clashed with authority when he told a history teacher he'd studied all the current events he needed.
A Revelation and a Turning Point
From his early flair for drawing, he got a job designing matchbook covers. He had never really looked at art. At the invitation of Seattle Art Museum (SAM) assistant director Ed Thomas, he visited the museum for a personal tour through the galleries and stacks.
Years later, he wrote:
"The discovery of works by Anderson, Graves and Tobey in the Seattle Art Museum was a revelation and a turning point in my life. Here were paintings that addressed my concerns from very different points of view. Guy Anderson had painted the fallen parachutist, the wounded and damaged warrior, figures in rocks, in the sea and on the beach. Graves used personal symbols to indicate his feeling of the senselessness of war: birds, moons, gloves and urns. Tobey enmeshed figures, cities and worlds in threaded light and pointed to the unity of energy in all forms and deplored the egocentrism of warring nations. After meeting these artists, I gained from their encouragement, guidance and friendship" (Gilkey Statement for Guy Anderson exhibition.)
Gilkey took the expedient of sitting on the front steps of Tobey's Brooklyn Avenue studio until the artist emerged in order to make his acquaintance. It was a precursor of the courage that later allowed Gilkey to seek out Picasso at his home in southern France.
Painting and Raising Hell
To support himself during the early postwar years, Gilkey worked at a succession of odd jobs, as ranch hand, merchant seaman, and setting choke as a logger. Off hours, he developed a reputation as a hell-raiser in places like the Blue Moon Tavern in the University District. Normally a peaceable man, he had a quick temper, and was prone to respond to challenges by getting in the first punch. Usually, it was enough.
He set up a studio at 95 Yesler Way, on the corner of 1st Avenue, in the area that came to be known as Pioneer Square, but which back then was still the original Skid Road. Tobey and Graves encouraged his early experimentation with art styles, showing him how things could work better in his paintings, and suggesting books to read.
Hitting His Stride
When his work was accepted into the 1948 Northwest Annual Exhibition he had begun to hit his stride. It was a period in which, influenced by Graves, he was producing bird, fish, and animal paintings. Young Bird, the depiction of a baby robin done in oil with a palette knife, is in SAM's permanent collection.
Gilkey's grandmother died in 1948, leaving him $1,000. He caught a bus to New York, then hopped a freighter to Europe, where the legacy allowed him to travel for four months, seeing master paintings in the great museums. He was especially impressed by the work of Rembrandt, Francisco Goya, and Vincent van Gogh.
The latter may have been the origin of the huge, aggressive sunflowers Gilkey painted in sharp focus in many of his subsequent canvases. A 1963 canvas, Bridge, in the collection of SAM, he described as "an awkward echo of Japanese woodblock prints, via Van Gogh."
Back in Seattle, Gilkey shared an apartment with Leo Kenney, surviving as an artist in part through the kindness of Betty Bowen, who bought groceries for the two painters, brought them portrait commissions, and brought patrons to their studios. In those days, his paintings sold for $25 or $50, and even then, people often made time payments.
European Sojourn
In 1958, his fortunes took a turn for the better when he received a Guggenheim Fellowship for travel and study abroad. He spent the first six months in Ireland, where Morris Graves had moved, and the next six months with a family in Siena, Italy.
The highlight of the trip was an afternoon he spent with Pablo Picasso. He was driving past Picasso's home in southern France when, on impulse, he stopped by the gate and left his favorite Kowichan sweater as a gift. He had always called it his Picasso sweater because the designs reminded him of Picasso's work.
As he was turning the car around, a woman he took to be the housekeeper swung open the gate and motioned for him to come in. It proved to be Jacqueline Roque Picasso. "Picasso was a tiny man," Gilkey recalled, "no bigger than Leo [Kenney], but built like a bull. Very husky" (Tarzan, "Gilkey's Visual Poems...")
With Jacqueline as interpreter, they talked painting. When Gilkey showed Picasso photographs of some of the thirty or more chair paintings he had done in the 1950s, Picasso introduced him to other guests as "the American chair painter." One of that series, Black Chair (1957), is in the collection of the Seattle Art Museum.
Picasso climbed into the back of Gilkey's Volkswagen, opened Gilkey's paint box, examined his brushes and the palette knives, which Gilkey preferred to brushes. He wanted to know about everything Gilkey did, and how he did it. Gilkey told him about a painting he had done in Picasso's style, titled Picasso Chair. When he left, Picasso gave him a Spanish chair of carved wood and thick leather. To Gilkey's grief, it would not fit into his Volkswagen, and had to be left behind. Gilkey later said, "In retrospect, I should have taken the chair and given Picasso the car" (Tarzan, "Gilkey's Visual Poems...").
Gilkey disliked the art that was in vogue in the 1960s. Pop art seemed to him a "vacant style," and abstract expressionism appeared equally empty of meaning. He made two painting trips to Mexico, but they did not seem to influence either his style or his taste.
The Fugitive Light of the Skagit Valley
For Gilkey, nature held primary meaning. In his studio, he copied H. R. Pagels' words from The Cosmic Code: "The visible world is neither matter nor spirit, but the invisible organization of energy" (Pagels). The question was, how could it be painted?
Through the process of working, he found his interest lay in the Skagit Valley landscapes of his childhood. For years, he regularly drove 60 miles from Seattle to paint the region. His landscapes were visual poems whose moods could be felt through the medium of the paint itself, laid on with a palette knife in such palpable density that its direction and rhythm could be read with the fingers. Thick, rhythmic strokes of subdued color thrummed with energy.
The fugitive light of the lower Skagit is unlike any other. No painter has reproduced it better than Gilkey. Without being literal, he captured the essence of the Skagit delta so faithfully that on certain cloudy days, critic John Robinson observed, "One cannot drive through it without noticing how much it has come to look like a Gilkey" (Robinson).
Like Gilkey himself, the paintings were both rugged and sensitive. A river rose and disappeared into the distance, cutting through geometric sections of golden fields. The viewer's eye was swept up to a scumbled white sky of broken clouds that seemed to suggest some veil across the unknown. These landscapes held peace. Art reviewer Robert Arnold called Gilkey "a superb naturalist, one of the best in the tradition of Van Gogh and Cézanne" (Arnold).
The landscapes, often done in heroic size, proved popular with Northwest institutions in search of suitable art for public areas. In November 1974, disagreement over a big three-panel mural commission for the main branch of Peoples National Bank of Washington caused Gilkey's split with the Foster/White Gallery. (Each of the three panels measured 6 feet by 20 feet. The mural now hangs on the fourth floor of the Washington State Convention Center, in Seattle).
The gallery had mounted one-man shows for Gilkey in 1968, 1971, and 1973. Gallery owner Donald Foster asked for 40 percent of the mural's commission price -- the amount usual for art sold in the gallery. Protesting that Foster had done nothing to secure the commission, Gilkey offered 15 percent. Ultimately, they agreed on 20 percent, Foster recalls (Donald Foster).
But when Gilkey arrived at the bank a few days before the scheduled dedication of the art to check the installation, he discovered the murals were hung in the wrong sequence. He blamed gallery director David Mendoza for not being there to supervise the hanging. He ended his association with the gallery, and supervised the correct hanging himself.
Bucking the Gallery System
After that split, Gilkey's work was represented by his longtime friend, Janet Huston. Huston, who held a Master of Fine Arts degree from the University of Washington, was herself a painter, but rarely exhibited her work. Gilkey liked the agent system because it allowed him to schedule shows at his own convenience rather than fitting into a gallery schedule.
Huston mounted the first independent show of Gilkey's work in March 1977, at 100 South Jackson Street. The space was owned by Richard White, former owner of the gallery renamed Foster/White after he sold it. Seattle Post-Intelligencer art critic Richard Campbell charged Gilkey with selfish motives and disloyalty to commercial art galleries for his use of a private agent. Outraged, Gilkey appeared at the Post-Intelligencer the next morning to take Campbell to task. He overturned Campbell's desk before stalking out.
Gilkey bought an acre of Skagit Valley farmland in 1975, from the proceeds of his mural commission. He rebuilt an ancient one-room house that stood on the property to serve as a temporary studio and living space. Over time, he added a separate studio building.
Gilkey's Poetic Fantasy
Surreal elements had begun to enter his landscapes, symbolic of seasonal cycles. A yin/yang of poppies and fish overhung a landscape titled Ritual in Full Summer. A wheel of fish set like a sun in a violet sky in Winter Solstice. A giant sunflower advanced from behind a barn in another canvas. In still another, a black sun was formed by wheeling smelt.
Gilkey attached the name "poetic fantasy" to the incongruous objects that floated above realistic landscapes much as Marc Chagall's fiddlers and lovers hovered over housetops. The symbolic insertions got a mixed critical reception. They were never as widely appreciated as his purely realistic landscapes.
Japanese Influence, Recognition in Japan
In 1982, Gilkey's work was included in a show of Pacific Northwest artists at Osaka's National Museum of Art, along with art by George Tsutakawa, Frank Okada, Johsel Namkung, Guy Anderson, Paul Horiuchi, Kenneth Callahan, Morris Graves, Leo Kenney, Philip McCracken, Carl Morris, Hilda Morris, and Mark Tobey. The artists were chosen for their interest in the Asian tradition.
For that exhibition, Gilkey wrote:
"The landscape in which I work is a rural agricultural river delta, rich with sloughs, marshes and farmland. Immediately to the East rise the Cascade Mountains, deeply forested and laced with waterfalls which flow from snow-covered peaks to rivers running seaward. The nearby rocky islanded coastline sustains ancient firs, wind-torn, gnarled and dwarfed, bonsai in nature. Mosses and lichens soften the weathered stones while mists and rain shroud the grayed landscape a large part of the year. It is a landscape very much like Japan. For me, this area has encouraged a meaningful response to Japanese culture which inspires respect for nature through art forms ... The Japanese nature spirit pervades many facets of life and becomes a celebration of nature, transformed through art. Artists have the potential to advance a heightened perception of reality and by this process enhance both art and living, which are one" (Pacific Northwest Artists and Japan).
The Accident
His career took a sharp turn in December 1984. He was driving a rental car on a New Mexico vacation, with Janet Huston and Jan Thompson (1918-2008) as passengers. A pickup truck came broadside across the freeway, hitting five cars on the way into his path. Gilkey swerved to avoid the collision, and instead was hit by a semi, which smashed the length of the driver's side, sending Gilkey's head through the side window, and crushing several of his vertebrae. His two passengers walked out unharmed.
This was Gilkey's second serious auto accident. The first took place in the late 1950s, during his brief marriage to Ann Warren. He was rear-ended on an errand to bring home a basset hound puppy. On that occasion, after spinal surgery to repair his injury, he was in a body cast for several months.
After the 1984 accident, Gilkey was unable to paint for nearly three years. For a long time, even after several surgeries, he couldn't lift a brush without agony. Medication to control his pain played havoc with his concentration and fine-motor control.
The Road Back
He appealed to the Kreielsheimer Foundation for help, asking for $10,000 to finish his studio, $5,000 to buy art materials, and $9,600 to be able to paint for a year. The foundation responded, taking in exchange three large paintings, one of which was placed in Cornish College of the Arts.
Five years after the accident, he at last had an exhibition of new paintings. The show inaugurated a new gallery that Huston opened at the corner of Fifth and Morris streets in La Conner. Gilkey's new paintings were no longer in oil, but in alkyd, a nonyellowing emulsion of acid and alcohol.
Black Light
The accident had given him intimations of mortality. He had begun to dwell on the nature of consciousness itself. In a painting titled The Waking, a creature is born from an egg in the midst of a maelstrom of flame. In another canvas, a moon so immense that its sides were clipped by the edges of the 4-foot panel was reflected in marshland, crossed by thick, reedy strokes of texture.
He had become enthralled with the idea of black light as a probability cloud. A quote from Lao-tzu seemed key: "Mystery and manifestations arise from the same source. The source is darkness ... Darkness within darkness, the gateway to all understanding." Of a canvas titled Winter Stone, he wrote: "Consciousness is a mirror in which energy patterns reflect nature. The Universe perceives itself!"
Crowning Achievements
Gilkey's painting had entered a new era; stronger than it ever had been. His subject was no longer the land but some interior state of consciousness. Recognition was immediate. In 1990, he was selected to receive the Washington State Governor's Art Award in recognition of outstanding contributions to the art of Washington state.
He became increasingly philosophical. He copied and enlarged a 1988 quote from Richard Feynman: "To note that the thing I call my individuality is only a pattern or dance, that is what it means when one discovers how long it takes for the atoms of the brain to be replaced by other atoms. The atoms come into my brain, dance and dance, and then go out -- there are always new atoms, but always doing the same dance, remembering what the dance was yesterday."
Gilkey was 64 when he won the crowning achievement of his career. He was named grand prize winner of the Osaka Triennale 1990 Exhibition, a juried competition that drew 30,000 entries from 60 countries around the world. He received word of his win on a day in early November that he deemed "the best and the worst day of my life." At 4 a.m. the same day, he had to evacuate his Fir Island studio when a levee broke and the Skagit River overran its banks, burying the island under 9 feet of water. Gilkey had to row a skiff out to his house to pick up a coat and get the papers to fax an acceptance back to Osaka.
His winning painting, August Field, was an oil on linen nearly 7 feet tall by 10 feet wide. It depicted countless small symbols floating in a space streaming with white light. It became part of the permanent collection of the Osaka Contemporary Art Center.
His paintings went from strength to strength in his ongoing search "to image universal aspects of reality, through light and form."
Death of an Artist
Gilkey killed himself in Hemingwayesque style. On Monday, September 29, 1997, he was diagnosed with lung cancer. He was already on medication for heart trouble. The Mount Vernon physician who gave him the diagnosis admitted being very negative in his prognosis.
Gilkey climbed into his 1992 Dodge Ram and began driving. He packed no clothes, and left his heart medicine behind. He took only one thing: a small revolver he'd had for years.
He drove as far as Jackson Hole, Wyoming. Some time before noon on Friday, October 3, 1997, he parked on the side of a dirt road near the summit of 9,600-foot Togwatee Pass. There, surrounded by the Grand Tetons, in a lush green meadow near a brook, he put the gun to his head. He was 72 years old.
His body was found later that day by a forest ranger.
He left behind a note from the Meditations of Marcus Aurelius: "This is the chief thing: Be not perturbed, for all things are according to the nature of the Universal, and in a little time you will be no one and nowhere."
Sources:
Unpublished Notes in possession of Janet Huston; Anne Stewart, "Brother Veterans: It's Tough Learning to Be Civilians Again," Seattle Post-Intelligencer, February 13, 1945; Unpublished Statement for Guy Anderson exhibition at Seattle Art Museum, June 14, 1996; Deloris Tarzan, "Gilkey's Visual Poems Evoke Moods of Northwest," The Seattle Times, March 30, 1980; Heinz R. Pagels, The Cosmic Code: Quantum Physics as the Law of Nature (New York: Simon & Schuster, 1982); John S. Robinson, "A Harsher Gilkey," Seattle Weekly, May 1989; Robert Arnold, "Traveling Through Richard Gilkey's Landscapes," Argus, February 10, 1978, p. 12; Deloris Tarzan Ament Telephone Interview with Donald Foster, May 18, 1999; Pacific Northwest Artists and Japan, exh. cat. (Osaka: National Museum of Art, 1982).
AT THE MOVIES
Kingfisher Journal
Robert C. Arnold, Editor
Editorial comments will reach Kingfisher at Verizon.net addressed to rcarnold

BACK ISSUES of Kingfisher Journal Online
(Available only online)

Kingfisher Journal Vol.1, No. 1, Poet Robert Sund Issue;

Kingfisher Journal Vol.1, No. 2, Iridescent Light Issue

Kingfisher Journal Vol.1, No. 3, Sylvia Plath Issue;

Kingfisher Journal Vol.1, No. 4, James Wright Issue

Kingfisher Journal Vol.2, No.1, Richard Hugo Issue

Kingfisher Journal, Vol.2, No. 1, Theodore Roethke Commemorative Issue
Kingfisher Journal, Vol. 2, No 3, W.S. Merwin/Richard Ford issue
Kingfisher Journal, Vol.2, No. 4, Fishtown Issue
Kingfisher Journal, Vol. 3, No. 1, William Stafford Issue
Kingfisher Journal, Vol 3, No. 2, David Wagoner Edition
Kingfisher Journal, Vol. 3, No. 3, Edna O'Brien Issue
Kingfisher Journal, Vol 3, No. 4 Anthony Powell and Donald Justice issue.
Kingfisher Journal, Vol 4, No. 1, Robert Sund and Graham Greene Issue.
Kingfisher Journal, Vol 4, No. 2 Saul Bellow and Robert Creeley Issue.
Kingfisher Journal, Vol 4, No. 3 Philip Whalen and Vincent Van Gogh.
Kingfisher Journal, Vol. 4, Number 4, J. M. Coetzee, W. S. Merwin, Red Pine (aka Bill Porter)
Kingfisher Journal, Vol.5, Number 1, Poet Frank O'Hara and Artist Larry Rivers
Kingfisher Journal, Vol. 5, Number 2, Jim Harrison Issue
Kingfisher Journal, Vol. 5, Number 3, Carolyn Kizer, David Wagoner,
W. S. Merwin
Kingfisher Journal, Vol. 5, Number 4, Red Pine and James Salter

Kingfisher Journal, Vol. 6, Number 1, Kenneth Rexroth, Wes Wehr, Helmi Jovenen, Taha Mulhammad Ali
Kingfisher Journal, Vol. 6, No. 2, Dmitri Shostakovich, Richard Ford, Robert Sund, Academy Awards, movies
Kingfisher Journal, Vol. 6, No. 3, Jim Harrison, Robert Sund, Judy Dench, Cate Blanchett, Thomas Wood
Kingfisher Journal, Vol. 6, No. 4, Onegin, Spider, Three Poets, Glenn Gould, Robert DeNiro
Kingfisher Journal, Volume 7, No. 1, Kidman, Dickey, DeNiro, Charles Wright
Kingfisher Journal, Volume 7, No. 2, John Keeble, War and Peach movie, W. S. Merwin
Kingfisher Journal, Volume 7 No. 3, Ridley Scott, Richard Hugo, Angelo Franco